The Cheat Sheet for Agile working method Scrum
Many teams around the world enjoy working according to Scrum. Moreover many company find focus and experience that it supports collaborating effectively. The theory is quite easy to understand, the execution is however a different story.
To provide you an overview of Scrum for preparing your Scrum Master I exam and give you a leg up in putting Scrum to practice we have made this Scrum summary for you. You can call it a Scrum Cheat Sheet or Scrum Quick Reference Card. It is Scrum in short on two A3 pages.
On the front side you will find an explanation of the Scrum meetings: the Daily Scrum, the Sprint Review, the Scrum Retrospective and the Sprint Planning.
As example we have included a time schedule of what a biweekly Sprint might look like including the recommended duration. Of course you can also choose a different Sprint length. However a fixed duration and a maximum duration of a month are strongly recommended. When your Sprints have a length of a month double the durations of all mentioned meetings except the Daily Scrum. The Daily Scrum remains at the recommended 15 minutes.
You can also find on this site a short description of the roles of the Development Team, the Product Owner and the Scrum Master.
On the reverse side you can find an explanation of the composition of the Scrum Team, what a Scrum Board is and of the Scrum artefacts such as Product Backlog, the Sprint Backlog, an Increment, User Stories and Epics. And finally you will find a step by step description of planning poker.
Optimise the Scrum process
Optimise the Scrum process and get the most value out of your Sprints with our Scrum Cheat Sheet and our Agile and Scrum courses.
Download the complete Scrum Cheat Sheet PDF
A preview of one side of the cheat sheet: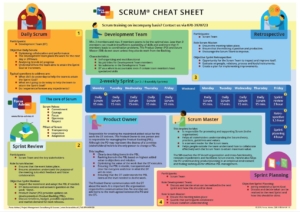 Organise a Scrum training in-company
We offer both English and Dutch language Agile and Scrum courses in the Netherlands. English courses on an incompany basis such as the Scrum Master, AgilePM®, PRINCE2® Agile, Leading SAFe®. All conducted by excellent, highly experienced trainers.
Interested in organising a Scrum course for your team? To request a quotation, you can contact us.
Implement an agile working method throughout the organisation
Now it might just be that your organisation is already implementing agile throughout the organisation and meets challenges. After all, it is easier said then done, right?
Perhaps you would want to take a look at SAFe, short for Scaled Agile Framework if your organisation works with a substantial or even large number of Scrum teams. Contact us by phone on 070-3970723 to talk about SAFe® and what it can do for your organisation.
The Scrum Cheat Sheet is based on the Scrum Guide van scrumguides.org.
This is our first English version, so we highly appreciate your feedback: share this with us at this e-mail address. If you enjoy our Cheat Sheet, please share this with your network. Enjoy!
https://www.forsa-advies.nl/wp-content/uploads/2019/02/115420680_s.jpg
565
847
Tim van den Akker
https://www.forsa-advies.nl/wp-content/uploads/2018/03/forsa-advies-logo.png
Tim van den Akker
2019-03-07 14:30:07
2022-08-22 12:24:34
The Scrum Cheat Sheet (English version)